Big screen storytellers quickly following in footsteps of small screen counterparts.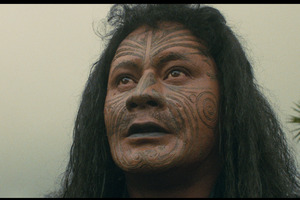 Anzac Wallace as Te Wheke in Utu.
At a NZ Film Festival screening in Wellington's Embassy theatre this year, Geoff Murphy introduced the stunning new "redux" version of his classic film Utu. He was funny and moving as he often is, yet for a moment appeared unsure how to finish his short speech. After a pause, he wound up by saying he still enjoyed the film, and hoped we would too.
That's all a filmmaker wants.
I've seen Utu many times over the years and the new version consolidates its position as a masterpiece of Kiwi cinema storytelling. The new colour palette and re-edit serves to highlight the power of the story and the performances. The dialogue sparkles, and a dark humour reminds us that even in the grimmest moments of our history, our humanity shines through.
This tale of the rebel Maori leader Te Wheke and his doomed battles against the Pakeha army who had killed his family makes for a dramatic big screen story, with generous dollops of action. It's a vigorous take on our nation's unique civil war period, and is brought to life with superb performances, especially from Wi Kuki Kaa, Martyn Sanderson, Bruno Lawrence, Tama Poata and Anzac Wallace.
As the final frames of the film lingered on Wi Kuki's unforgettable face, I could see the melancholy of one who was suffering damage to his Maori soul. Wi was a brilliant actor and a vivid human being. His sad, strong face spoke for a whole people. And because of the magic of film, his image still speaks to us.
Utu did what all great films do for me: rivet my mind with the story, touch my heart with its telling, and usher my soul to a place of new understanding. This ineffable blend of art and entertainment can enthral as much as inform.
The movie was first released not long after the tumultuous Springbok tour of 1981. Those games of rugby forced us as a nation to think about race relations. It was a tricky period in our history. A civil war of sorts. Hostilities took place in our stadiums, streets and homes. When Utu came along, it offered a glimmering of understanding about our national unrest. By telling this story at that time, the film acquired mana.
Utu was also one of the first films to prove a Maori story can have wide appeal beyond a Maori audience. Subsequent films with strong Maori content such as Ngati, Mauri, Once Were Warriors, The Piano, Whale Rider, Boy, Mt Zion and White Lies scored significant success locally and internationally.
However, in the 30 years since Utu that's not really a lot of Maori movies.
That's about to change.
In part this is because the idea of what constitutes a Maori film is also evolving. As more Maori scriptwriters, directors and producers acquire experience in this difficult business, many of them have sensibilities that are shaped by the communities they are part of, and beholden to. This makes them passionate storytellers: and perfect for film.
The wars of the 19th century, the urban migration, and the neo-liberal economic policies of recent times have brought a lot of bad news for Maori.
Despite that, and to a great degree because of it, there are strong signs of ascendancy among our people. Our storytellers are an integral part of that. Our small screen storytellers have made Maori television an essential and well regarded part of our society. The big screen storytellers are following quickly.
There is a new wave of Maori filmmakers just waiting to flex their cinematic muscles. We in the film development body Te Paepae Ataata work with some of the best of them. Others are in the wings or working in the mainstream.
The Maori movie voice is fast taking its place in the whakapapa of film. By doing so, it will generate its own cultural and economic potential.
When you look at the credits at the end of Utu, you can't help but be struck by the many names in the cast and crew who kickstarted, inspired and trained many of the current generation of Maori filmmakers. Murphy and his late wife the magnificent Merata Mita, are among our foremost kaumatua in film.
I saw Murphy on the TV news a few days after the screening. He'd received a major award as an icon of NZ. He looked happy and stylishly besuited among the small but stellar array of fellow icons. It was a deserved and lovely thing, and I shall not forget it. Yes bro, I did enjoy the film. Loved it. Tena koe Matua.
Tainui Stephens is an independent film/TV producer/director, member of Te Paepae Ataata. Utu is screening in selected cinemas now.